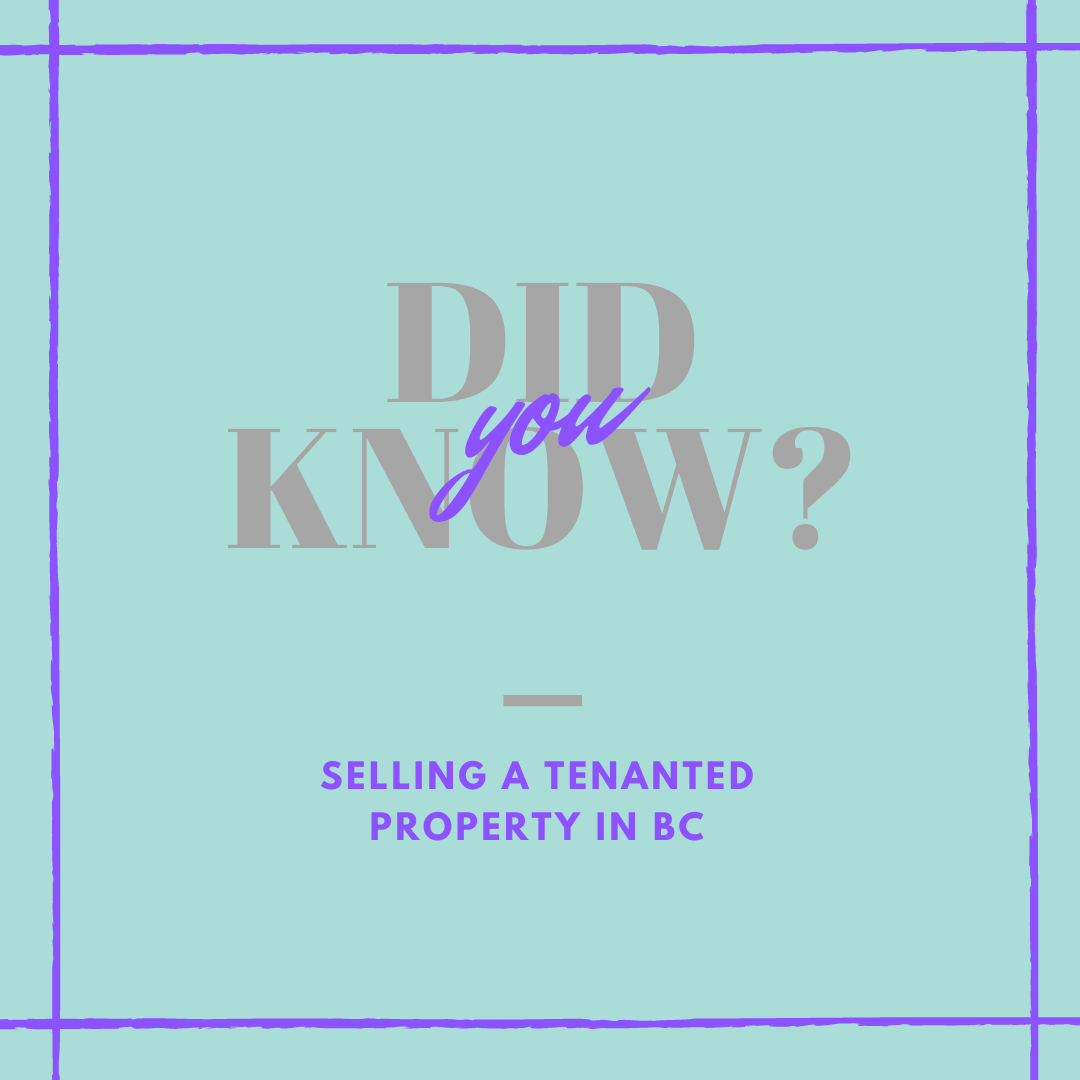 Selling a tenanted property in BC
🙅🏼‍♀️ A Landlord can not evict tenants if they want to put their house on the market for sale. If you feel it is very important to have your house vacant to sell, you can try to come to a mutual agreement to end the tenancy with your tenants. You must fill out the RTB – 8 form – Mutual Agreement to End Tenancy.
💕 Hopefully you have a good relationship with your tenants. Respect for their space – where they have made their home – and the stress this will cause will go a long way. We've all seen those horrible photos of mess and disarray of tenanted properties, but they are not all like that. I have had tenanted properties look staged and I know it helped the property sell. Shout out to those amazing tenants! It's not required, but if a Landlord can recognize that and provide incentive, or at the least, appreciation, your tenants may actually help sell your place. If you're curious about this, reach out to me and I'd be happy to share what I'm talking about.
📅 Give your tenants some reasonable notice. This is going to be a pretty major upheaval, give them time to digest it. Get your Real Estate Agent to meet with them and let them know how viewings will work and try to come up with a viewing schedule that gets maximum exposure for your house, while respecting the tenant's space and schedule.
Assure them that if they are on a month to month agreement, they may be given 2 calendar months notice if a buyer plans to move into the property. That means if it's the 2nd of the month when conditions are removed, those tenants will have nearly 3 months notice (and one month free rent).
If the tenants are on a fixed term agreement, that agreement needs to be honoured by the buyer (or a mutual agreement to end tenancy signed by Landlord and Tenant).
💡Watch those subject removal and completion dates when dealing with a tenanted property. Make sure enough time is given to allow for legal serving of notices once there is an unconditional offer (there are delays if not served in person). Do not assume you will be able to serve it in person. Absentee Landlord? Who will serve the papers for you?
🏡 Most Agents prefer to sell a vacant property – it's easier to have viewings, the house looks the same way you left it, it can be staged, completion dates are way more flexible, there is less communication required, etc.  Is it harder work to sell a tenanted property? Yes, it is.  Hard work is what we do best. Give us a call if you have questions about selling your tenanted property.
🙌🏽 I'd love to take this opportunity to shout out to all you awesome tenants out there. We see you and we know many of you are finding yourselves in a position where your rental is being sold. The Landlord needs to do what's best for them and their Agent needs to work 100% in their client's best interest. We believe that keeping good tenant relations is in our client's best interest on both a professional and ethical level. We want to work with Landlords who have those same values.
~ Paula
📞 250.551.9577